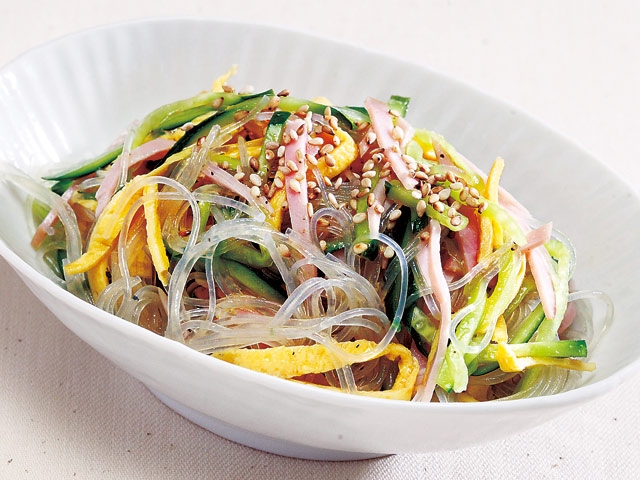 Easy Harusame (Bean-starch Vermicelli) Salad
Calories
171 kcal
Sodium
1.4 g
Total time
(approximate)
15 minutes
Ingredients
| | |
| --- | --- |
| Harusame (dried) | 30 g |
| Sliced ham | 40 g (around 2 slices) |
| Egg | 1/2 an egg |
| Sesame seeds | as desired |
| (A) Salad Dressing | 2 Tbsp |
| (A) Sesame seed oil | 1/2 Tbsp |
| (A) Japanese mustard | to taste |
| Vegetable oil | as appropriate |
Preparation
Boil the Harusame until tender.
Julienne ham and cut cucumber into strips.
Heat oil in a frying pan. Pour in mixed egg and make a paper-thin omelet. Wait for the paper-thin omelet to cool down, then julienne.
Place the Harusame from step 1, ham and cucumber from step 2, sliced paper-thin omelet from step 3 and A (Salad Dressing, sesame seed oil and Japanese mustard) in a bowl and dress.
Garnish with sesame seeds and serve.