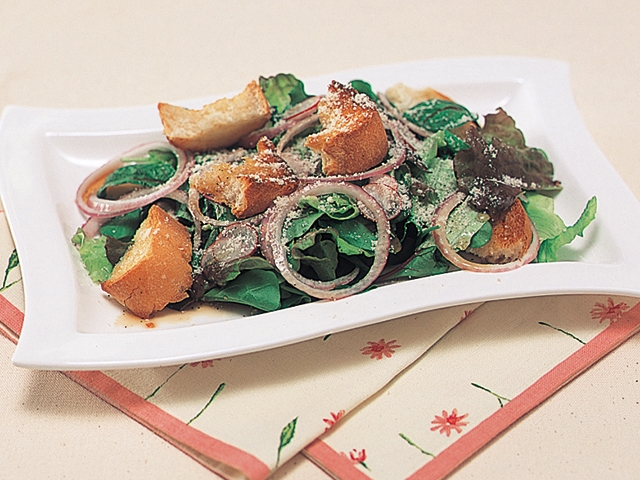 Kamada-style Salad with Croutons
Calories
124 kcal
Sodium
1.1 g
Total time
(approximate)
15 minutes
Ingredients
| | |
| --- | --- |
| Baguette slices (2 cm thick) | 20 g (around 2 slices) |
| (A) Olive oil | 1 Tbsp |
| (A) Salad Dressing | 1/2 Tsp |
| (A) Fresh garlic (grated) | small amount |
| Red leaf lettuce | 60 g (around 3 leaves) |
| Radish | as desired |
| Grated parmesan cheese | 1 Tbsp |
| Salad Dressing | 2 Tbsp |
Preparation
Mix A (olive oil, Salad Soy Sauce and grated garlic) together and spread on the bread. Toast and tear into bite-sized pieces by hand.
Cut onion and radish into thin slices and soak in water. Drain well before use.
Tear the red leaf lettuce leaves into easy-to-eat pieces.
Mix the ingredients from steps 1 to 3 with Salad Dressing. Sprinkle parmesan cheese on top.